Contact
About
Strategic Account Management & Developer Programs for Cutting Edge Technology
Occipital | Google | Nukotoys | Carnegie Mellon University | Improvisation for Innovation | Second City Chicago
Portfolio
Links
Signal Garden
Occipital
AURA Promotional Video
---
This was the very first Microsoft-sponsored project with Carnegie Mellon University's Entertainment Technology Center. As the Producer for the Microsoft Live Engagement project my goal was to cultivate the relationship with Microsoft's Arnold Blinn while demonstrating the team's ability and providing leadership through the product development process. I led a team of 8 artists, designers, and engineers to create a cross-platform, social experience using 3D Xbox avatars for self-expression.
Developing 3D content and a respective user interface that provides a new content mechanism while keeping with the Metro design system was our goal. Our client was Microsoft Corporation. The hardware was the new Windows Phone 7 prototype. Much of our results are under a strict NDA.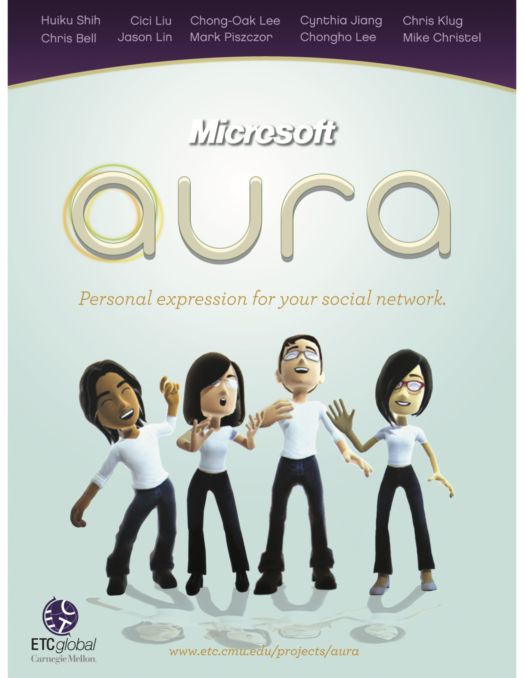 ---
How AURA Works
By empowering smart phones with apps like Twitter™, developers are creating new spaces for meaningful social interaction to take place. Coupled with the use of avatars, these virtual environments offer great opportunity for human expression and personal communication.
Sponsored by Microsoft™ and in development at Carnegie Mellon University's Entertainment Technology Center, Aura is an avatar-rich app offering meaningful personal expression across Microsoft devices. With Aura, users will experience a more human approach to the actions, information, whereabouts, and statuses of their many friends and followers.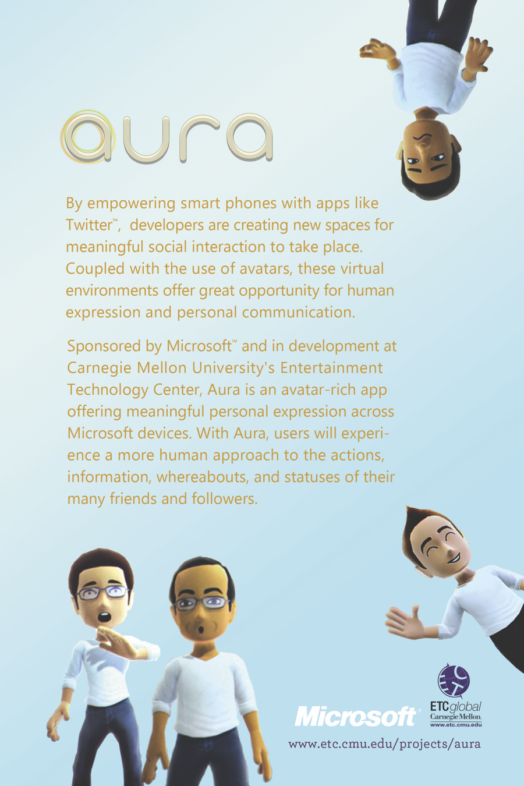 ---
PROJECT SUMMARY
In early January of 2010, the Aura Team had the privilege of visiting the Microsoft LIVE Engagement Team at Microsoft HQ in Redmond Washington to pitch 3 concept games that would be used across multiple Microsoft platforms including the NEW Windows Phone 7 Series device.
The 3 game concepts were each unique as follows:
Family Pet Game
Live Treasure Hunt
Live Avatar
By the end of the meeting, the LIVE Engagement Team and Team Aura agreed on an Xbox Avatar-based game that creates a visualization of users on their social networks using their personally created Xbox LIVE Avatars.
PROJECT GOAL
To create an application that enables rich expressions of user interaction between people while using the Windows Phone 7 Series devices and Xbox consoles
The team's technical development to date has been quite rapid, with the following successes:
Application Framework complete
Able to post Action & Status to Database
Able to see Friends Action & Status
Twitter/Facebook integration complete
Team Aura continues to make weekly progress in the development of a rich and expressive application for Microsoft and its groundbreaking Windows Phone 7 Series device.
RESEARCH HIGHLIGHTS
Since the start of the project, the team has been doing an extensive research on the following areas in order to set the right direction for the project :
Target Demographics
Twitter User Behavior Analysis
Competitive Analysis
Visualization
Target Demographics
Creating a Twitter app is an important part of the project and the team began gathering more knowledge on demographics of Twitter users.
The team managed to find meaningful data from the research document of Pew Research Center and Morgan Stanley's report on "How Teenagers Consume Media". The fact that teenagers don't use Twitter that much and not many of them have smart phones led us to not consider teenagers for the target demographic of our application. We decided to have college students (age 19~25) as our target demographic since they fall into the categories of both Twitter's and video game console's core user group.
Twitter User Behavior Analysis
As the research report, Twitter and Status Updating, from Pew Research Center suggests, more and more people are using Twitter to post their current status and see what others are up to.
The findings from the research has convinced us that we should focus on helping people to post their status or see the status of others in a more visually appealing and engaging way.
Competitive Analysis
Because the team is looking into adding game-like fun features to the application, we didn't only took a look at mobile or desktop Twitter apps but also checked out various games that features avatars or virtual pets such as the Sims series or Pocket God.
The team was especially intrigued by Foursquare, the location-based social networking application that has been gaining popularity recently.
Visualization
Many websites feature visualization of the Twitter universe, and we were able to find a good number of inspirational ones among them. These visualization works influenced the team's design on how to represent the relation between the user and his or her friends effectively in multiple ways.
A couple of website links that feature analysis and visualization as our inspiration include flowingdata.com and tweetstats.com.